Scam Alert! Wales Tech Week will NOT be selling an attendee list
Be scam alert! We've been made aware that scammers are falsely claiming to offer access to a Wales Tech Week attendee list. This is a scam.
Wales Tech Week will NOT be selling an attendee list.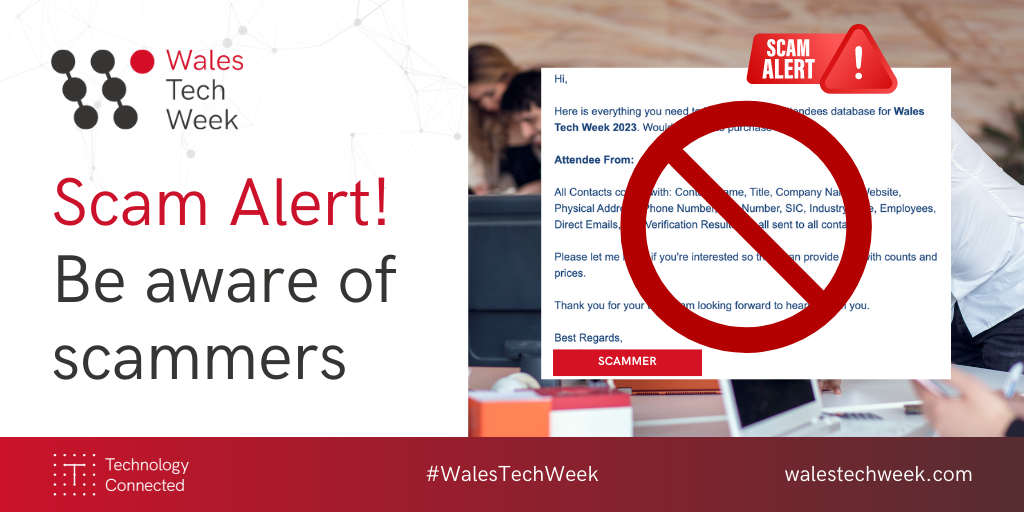 If anyone contacts you by email or any other method to offer such a list, free or paid, it is a scam. Do not engage and do not open or save any files they send.
As the organiser of Wales Tech Week, Technology Connected is the ONLY provider of Partnerships, Exhibition, tickets, and any other products/services related to Wales Tech Week. If you would like to get involved, please make sure you contact us directly.
The scam attendee list is completely false – please be assured that the actual Wales Tech Week attendee data has not been leaked or shared with any third parties.
For the latest information and updates and our direct contact information, please visit our contact page here or the Technology Connected website here.
We recommend you mark any scam communications as spam, do not reply or engage, and block the sender.